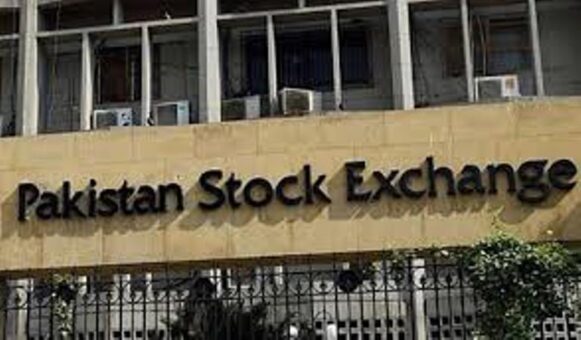 KARACHI: The share market witnessed an increase of 170 points on Friday owing to rebalancing of international stock market and improved sentiments ahead of announcement of monetary policy statement (MPS).
The benchmark KSE-100 index of Pakistan Stock Exchange (PSX) closed at 42,504 points as against 42,334 points showing an increase of 170 points.
Analysts at Arif Habib Limited said that right before the announcement of Monetary Policy (scheduled for Monday, September 21st) and rebalancing of FTSE, market responded positively with OGDC, PSO, ENGRO and UBL to add price gains on the index.
UNITY saw brisk activity with high volumes and hitting upper circuit on the back of expectation of higher earnings, Short-sell positions and the proximity of right shares which will be credited to Investors' accounts September 25th.
Rebound in international crude oil prices helped OGDC, PPL and especially POL put a recovery, whereas KEL also reaped high volumes among Power sector stocks.
Cement sector saw selling pressure without losing much on stock prices of underlying stocks. Transport sector topped the volumes with 78.1 million shares, followed by Power (76.4 million) and Food (66.9 million).
Among scrips, PIBTL led the volumes with 75.5 million, followed by UNITY (45.3 million) and FFL (38.8 million).
Sectors contributing to the performance include E&P (+75 points), Banks (+72 points), Fertilizer (+35 points), Autos (+15 points) and Transport (+13 points).
Volumes increased from 508.6 million shares to 516.1 million shares (+1 percent DoD). Average traded value, on the contrary dropped by 10 percent to reach US$ 81.9 million as against US$ 90.8 million
Stocks that contributed significantly to the volumes include PIBTL, UNITY, FFL, KAPCO and KEL, which formed 45 percent of total volumes.
Stocks that contributed positively to the index include OGDC (+43 points), FFC (+28 points), UBL (+27 points), MEBL (+20 points) and POL (+15 points). Stocks that contributed negatively include KAPCO (-19 points), DAWH (-14 points), PAKT (-9 points), EPCL (-7 points) and LUCK (-7 points).