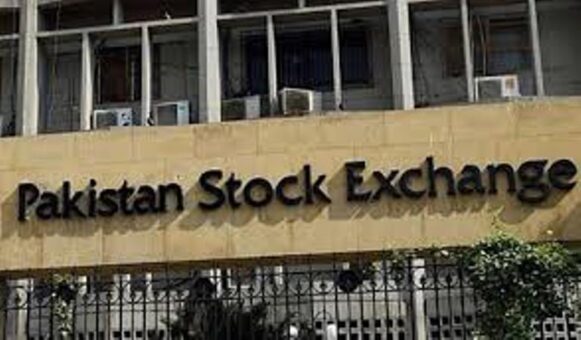 KARACHI: The stock market gained 170 points on Wednesday on positive sentiments prevailed on a report related to banking sector.
The benchmark KSE-100 index of Pakistan Stock Exchange (PSX) closed at 46,092 points as against last day's closing of 45,922 points showing an increase of 170 points.
Analysts at Arif Habib Limited said that the market continued the uptrend from yesterday and added another 392 points during the session, closing +170 points.
Cement, E&P and Banking sectors contributed to the increase in Index. International crude prices supported the positive stance in E&P, which was primarily on account of the consistent draw down in global floating storage of crude products.
On the other hand, Cement sector performed in anticipation of better results from the outgoing quarter.
Last half hour of the session saw Moodys issuing positive statement on Pakistani banks that helped the banking sector perform relatively better. Among scrips, KEL posted trading volume of 110.5 million shares, followed by PIBTL (79.6 million) and POWER (45 million).
Sectors contributing to the performance include Technology (+79 points), Cement (+74 points), Textile (+49 points), Banks (+43 points) and Engineering (+24 points).
Volumes increased further from 825.8 million shares to 845.3 million shares (+2 percent DoD). Average trading volumes increased by 27 percent to reach US$ 167.5 million as against US$ 131.8 million.
Stocks that contributed significantly to the volumes include KEL, PIBTL, POWER, HUMNL and FFL, which formed 35 percent of total volumes.
Stocks that contributed positively to the index include SYS (+50 points), TRG (+28 points), PIOC (+21 points), HBL (+21 points) and INIL (+20 points). Stocks that contributed negatively include UBL (-25 points), PAKT (-17 points), DAWH (-16 points), MTL (-16 points) and KEL (-15 points).