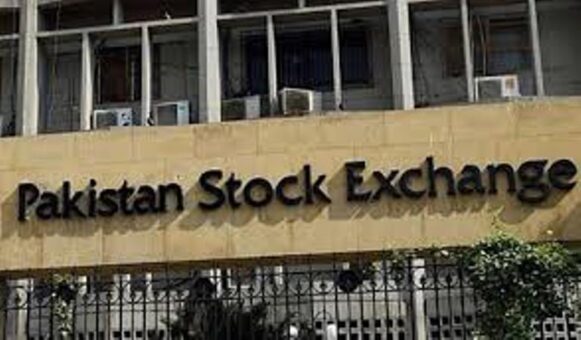 KARACHI: The stock market fell by 70 points on Thursday as the market witnessed heavy selling during the day.
The benchmark KSE-100 index of Pakistan Stock Exchange (PSX) closed at 41,806 points as against 41,876 points showing a decline of 70 points.
Analysts at Arif Habib Limited said that the market had a field day bearing heavy selling pressure during the session, particularly on Cement, E&P, and Banking sector stocks that brought the index down by 459 points.
Recovery set in by mid-day, which brought the index level back up and closed the session -70 points.
Settlement of rollover trades, apprehensions on rising Corona related cases as well as weak investor sentiment in international markets caused local investors to stay cautious as well.
Cement sector registered trading volumes of 53.5 million shares, followed by Power (49.3 million) and Technology (43.3 million). Among scrips, KEL topped the volumes with 40 million shares, followed by UNITY (33.1 million) and HASCOL (32.1 million).
Sectors contributing to the performance include E&P (-86 points), Food (-20 points), Power (-16 points), Fertilizer (+69 points) and Cement (+18 points).
Volumes dropped from 582.8 million shares to 434.9 million shares (-25 percent DoD). Average traded value however increased by 17 percent to reach US$ 91 million as against US$ 77.6 million.
Stocks that contributed significantly to the volumes include KEL, UNITY, HASCOL, POWER and PIBTL, which formed 33 percent of total volumes.
Stocks that contributed positively to the index include ENGRO (+36 points), EFERT (+24 points), FFC (+15 points), LUCK (+15 points) and PSO (+14 points). Stocks that contributed negatively include OGDC (-48 points), PPL (-33 points), TRG (-20 points), NESTLE (-14 points) and BAFL (-11 points).