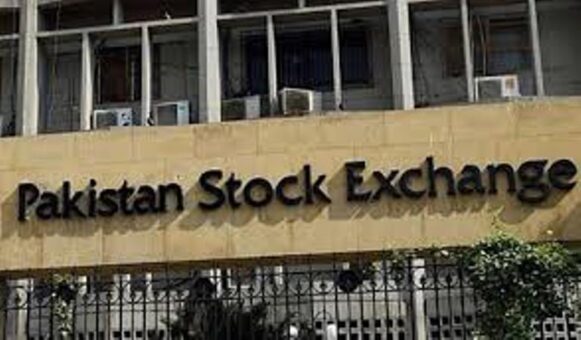 KARACHI: The share market gained 105 points on Thursday as selling pressure continued and investors opted for profit taking.
The benchmark KSE-100 index of Pakistan Stock Exchange (PSX) closed at 40,676 points as against 40,571 points showing an increase of 105 points.
Analysts at Arif Habib Limited said that the selling pressure continued unabated today, which saw Index slipping another 458 points during the session, however, sporadic buying in blue chip stocks especially Cement sector and otherwise HBL & UBL among Banks and PSO in O&GMCs brought the index back into positive.
Last half hour saw index posting gain of 110 points. Past sessions have seen the effect of redemptions from mutual fund investors to cause havoc in otherwise calm market.
Market has lost roughly 2000 points from its recent highs and in the process has brought attrition in Cement, Steel and banking sector scrips. Among scrips, HASCOL topped the volumes with 67.6 million shares, followed by KEL (28.8 million) and UNITY (26 million).
Sectors contributing to the performance include Banks (+94 points), Cement (+51 points), Chemical (+20 points), E&P (+16 points) and Technology (-25 points).
Volumes declined further from 473.8 million shares to 371.7 million shares (-22 percent DoD). Average traded value also dropped by 19 percent to reach US$ 75.8 million as against US$ 93.2 million.
Stocks that contributed significantly to the volumes include HASCOL, KEL, UNITY, TRG and PIBTL, which formed 43 percent of total volumes.
Stocks that contributed positively to the index include HBL (+30 points), MCB (+30 points), UBL (+28 points), DGKC (+25 points) and ENGRO (+19 points). Stocks that contributed negatively include TRG (-21 points), HASCOL (-20 points), MEBL (-18 points), BAHL (-9 points) and HUBC (-9 points).