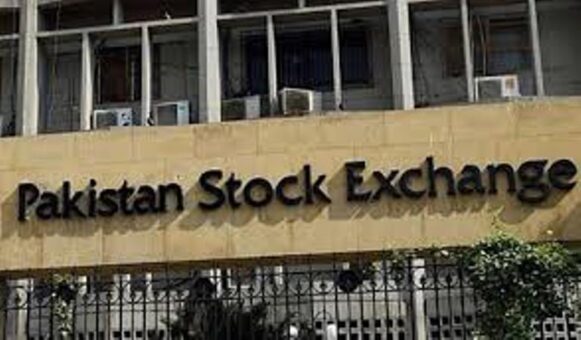 KARACHI: The stock market plunged by 960 points on Monday owing to political uncertainty after the arrest of the opposition leader.
The benchmark KSE-100 index of Pakistan Stock Exchange (PSX) closed at 40,740 points as against 41,701 points showing a decline of 960 points.
Analysts at Arif Habib Limited said that last week's rollover session had its trickle down impact on today's trading session as well, primarily due to low settlement ratios.
On top of it, political uncertainty caused by the arrest of the Opposition leader also caused ripples that resulted in the index losing 1056 points during the session.
Cement, O&GMCs, Refinery, Banks saw heavy selling pressure. Technology stocks topped the volumes with 59.7 million shares, followed by O&GMCs (54.6 million) and Power (38.4 million). Among scrips, HASCOL realized trading volumes of 57.5 million shares, followed by UNITY (47.5 million) and BYCO (28.4 million).
Sectors contributing to the performance include Banks (-227 points), Cement (-137 points), Fertilizer (-75 points), Textile (-59 points) and E&P (-58 points).
Volumes declined from 435 million shares to 407.2 million shares (-6 percent DoD). Average traded value also declined by 7 percent to reach US$ 86.1 million as against US$ 92.9 million.
Stocks that contributed significantly to the volumes include HASCOL, TRG, KEL, UNITY and BYCO, which formed 37 percent of total volumes.
Stocks that contributed positively to the index include TRG (+6 points), EFUG (+3 points), MTL (+2 points), SRVI (+1 points) and OLPL (+0 points). Stocks that contributed negatively include HBL (-79 points), MARI (-47 points), BAHL (-44 points), ENGRO (-37 points) and HUBC (-35 points).