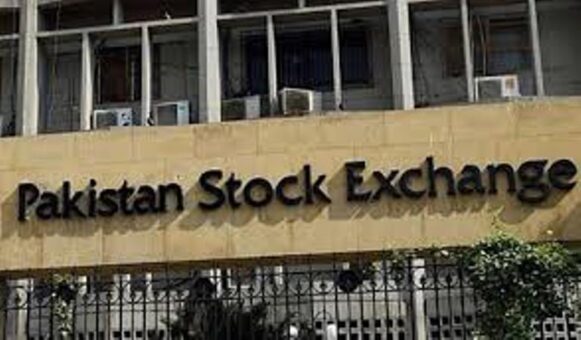 Stock market sheds 354 points ahead MPS announcement
KARACHI: The stock market fell by 354 points on Friday owing to imposition of smart lockdown and schedule announcement of monetary policy statement (MPS).
The benchmark KSE-100 Index of Pakistan Stock Exchange (PSX) closed at 40,187 points as against 40,541 points showing a decline of 354 points.
Analysts at Arif Habib Limited said that the market took negative turn today by dipping down 414 points during the day and closed -354 points.
MoC saw selling pressure building up in banks and cements, for reasons that next week is roll-over, government has imposed smart lock down in areas where corona incidence is on the increase and State Bank of Pakistan (SBP) is due to announce monetary policy on Monday eve.
E&P stocks bit the dust as well, although international crude oil prices were up and trading positive. Among scrips, UNITY topped the volumes with 39.7 million shares, followed by TRG (14.2 million) and MLCF (10.1 million).
Sectors contributing to the performance include Banks (-91 points), Cement (-63 points), Inv Banks (-52 points), Technology (-38 points) and O&GMCs (-30 points).
Volumes increased to 189.9 million shares as against 188.5 million shares (+0 percent DoD). Average traded value however declined by 4 percent to reach US$ 47.1 million as against US$ 50 million (-6 percent DoD).
Stocks that contributed significantly to the volumes include UNITY, TRG, MLCF, EPCL and WTL, which formed 41 percent of total volumes.
Stocks that contributed positively to the index include ILP (+7 points), MTL (+5 points), UNITY (+4 points), NML (+4 points) and PMPK (+4 points). Stocks that contributed negatively include DAWH (-51 points), UBL (-29 points), LUCK (-26 points), TRG (-23 points) and BAFL (-18 points).