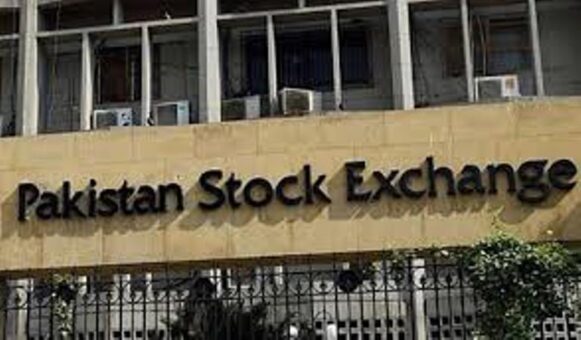 KARACHI: The stock market has lost 224 points on Friday as the market witnessed buying activity during the day.
The benchmark KSE-100 index of Pakistan Stock Exchange (PSX) closed at 40,807 points as against 41,031 points showing a decline of 224 points.
Analysts at Arif Habib Limited said that the market opened on a negative note today with -54 points and closed the first session -133 points.
Index lost a total of 278 points during the session, however, buying activity in banks, cement, refineries and technology sector helped the index gain some points. The index closed -224 points.
E&P and Cement sector stocks observed selling pressure primarily due to concerns on slow cement dispatches as well as staid crude prices. Among scrips, UNITY led the volumes with 53.4 million shares, followed by TRG (45.8 million) and KEL (23.1 million).
Sectors contributing to the performance include E&P (-86 points), Cement (-51 points), Fertilizer (-38 points), Banks (-31 points) and O&GMCs (-23 points).
Volumes increased from 389.2 million shares to 397.8 million shares (+2 percent DoD). Average traded value however, declined by 18 percent to reach US$ 82.5 million as against US$ 100.5 million.
Stocks that contributed significantly to the volumes include UNITY, TRG, KEL, HUMNL and MLCF, which formed 41 percent of total volumes.
Stocks that contributed positively to the index include TRG (+40 points), MTL (+17 points), COLG (+11 points), UNITY (+7 points) and SCBPL (+4 points).
Stocks that contributed negatively include PPL (-33 points), LUCK (-28 points), OGDC (-24 points), ENGRO (-22 points) and HUBC (-18 points).