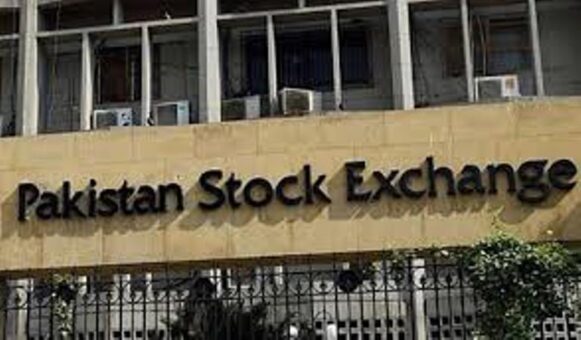 KARACHI: The share market witnessed decline of 117 points on Friday as selling pressure seen in many sectors.
The benchmark KSE-100 index of Pakistan Stock Exchange (PSX) closed at 42,531 points as against 42,647 points showing a decline of 117 points.
Analysts at Arif Habib Limited said that the market opened on a positive note today with +98 points and 6.3 million shares traded at the opening bell.
During the 2 sessions, the index moved between -190 points and +222 points, closing the second session -105 points (unadjusted). Selling pressure began in the first session, with profit booking in E&P, Cement, Steel and Pharma sectors and buying activity in Fertilizer, Banks that helped the index post gains.
Second session began with PPL announcing its financial results that brought stock price down due to lower than anticipated earnings. O&GMCs topped the volumes with 67.7 million shares, followed by Refinery (65.5 million) and Technology (47.6 million). Among scrips, HASCOL realized 59.9 million shares, followed by BYCO (54.5 million) and PIBTL (25.5 million).
Sectors contributing to the performance include Banks (+36 points, Fertilizer (+24 points), Power (+22 points), E&P (-59 points), Cement (-56 points) and Food (-26 points).
Volumes declined from 884.9 million shares to 526.2 million shares (-41 percent DoD). Average traded value also declined by 35 percent to reach US$ 105.7 million as against US$ 163.2 million.
Stocks that contributed significantly to the volumes include HASCOL, BYCO, PIBTL, KEL and PACE, which formed 34 percent of total volumes.
Stocks that contributed positively to the index include UBL (+32 points), ENGRO (+29 points), HUBC (+21 points), HASCOL (+12 points) and HBL (+12 points). Stocks that contributed negatively include PPL (-41 points), LUCK (-24 points), NESTLE (-17 points), EFERT (-13 points) and OGDC (-12 points).