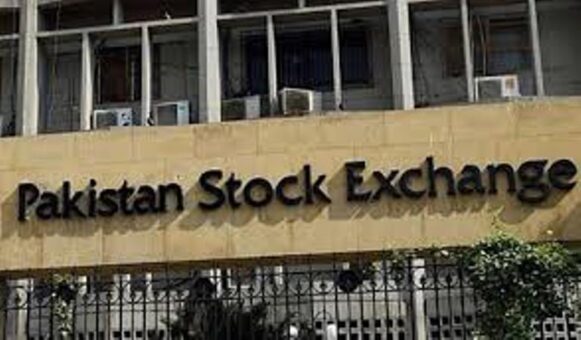 KARACHI: The share market gained 196 points on Friday despite selling pressure in major scrips.
The benchmark KSE-100 index of Pakistan Stock Exchange (PSX) closed at 32,033 points as against 31.837 points showing an increase of 196 points.
Analysts at Arif Habib Limited said that the market saw a drop of 460 points early in the session, which was largely a factor of the crash in oil prices overnight (WTI closing 7.5 percent down from its opening the other day).
Resultantly, oil & gas chain saw selling pressure / profit booking but close of session saw pertinent scrip prices inching up, though still closed red.
Cement sector continued displaying strength on Relief construction package, on the back of which, DGKC and LUCK remained prominent, although by end of session, MLCF also saw buying activity.
Among banking sector stocks, HBL maintained its levels for the past couple of sessions, whereas UBL showed price gains.
Prospects of opening the lockdown by the Provincial governments has so far played in the interest of Cement sector largely.
Cement sector maintained the leadership in trading volumes with 33.3 million shares, followed by O&GMCs (17.1 million) and Power (12.4 million). Among scrips, UNITY topped the chart with 28.7 million shares, followed by HASCOL (25.8 million) and PAEL (14.1 million).
Sectors contributing to the performance include E&P (-103 points), Banks (+105 points), Fertilizer (+51 points), Technology (+24 points), Cement (+22 points) and Pharma (+20 points).
Volumes declined from 216.5 million shares to 127.1 million shares (41 percent DoD). Average traded value also declined by 41 percent to reach US$ 30 million as against US$ 51 million.
Stocks that contributed significantly to the volumes include HASCOL, KEL, MLCF, DGKC and PAEL, which formed 36 percent of total volumes.
Stocks that contributed positively to the index include BAFL (+34 points), ENGRO (33 points), MCB (+19 points), SNGP (+19 points) and FFC (+18 points). Stocks that contributed negatively include OGDC (-37 points), PPL (-34 points), MARI (-17 points), POL (-15 points), and PAKT (-12 points).