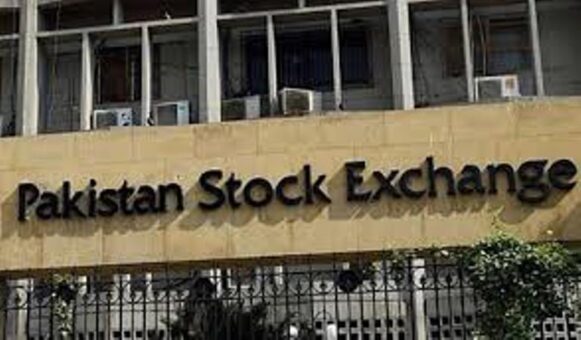 KARACHI: The share market plunged by 1043 points on Monday after across the board selling pressure was seen during the trading.
The benchmark KSE-100 index of Pakistan Stock Exchange (PSX) closed at 30,579 points as against 31,622 points showing a decline of 1043 points.
Analysts at Arif Habib Limited said that the market opened on a positive note today +294 points and 6.1 million shares traded at the opening bell, however, it lost the momentum that was observed on last trading day on Friday, when the market went up.
Selling pressure kept increasing and brought the index down by 1119 points during the session, ending at -1043 points.
Selling pressure was seen almost across the board. E&P stocks held some ground and showed decent volumes in range bound activity.
Cement sector led the volumes with 71.6 million shares, followed by O&GMCs (25.4 million) and Power (21.7 million). Among scrips, MLCF topped the volumes with 23 million shares, followed by HASCOL (20.1 million) and KEL (17 million).
Sectors contributing to the performance include Banks (-297 points), Fertilizer (-143 points), Cement (-121 points), Power (-93 points) and O&GMCs (-62 points).
Volumes declined from 251.8 million shares to 233.2 million shares (-7 percent DoD) Average traded value also declined by 6 percent to reach US$ 52.2 million as against US$ 55.5 million.
Stocks that contributed significantly to the volumes include MLCF, HASCOL, KEL, UNITY and PIOC, which formed 35 percent of total volumes.
Stocks that contributed positively to the index include OGDC (+33 points), PAKT (+22 points), BAHL (+10 points), JLICL (+6 points) and SCBPL (+4 points).
Stocks that contributed negatively include HBL (-80 points), MCB (-71 points), HUBC (-62 points), ENGRO (-57 points), and UBL (-56 points).