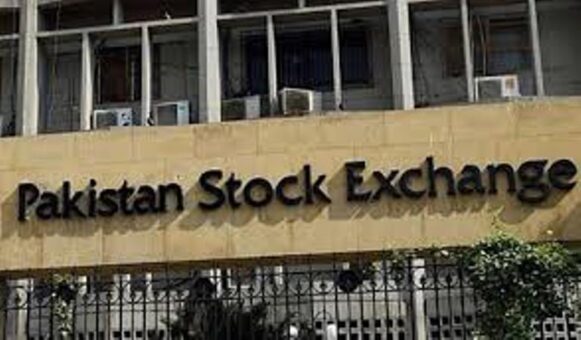 KARACHI: The stock market fell by 345 points on Tuesday as selling pressure witnessed across the board during the day.
The benchmark KSE-100 index of Pakistan Stock Exchange (PSX) closed at 41,829 points as against 42,174 points showing a decline of 345 points.
Analysts at Arif Habib Limited said that selling pressure was observed across the board, post issuance of Monetary Policy, which saw policy rate constant at 7 percent.
Negativity in international and regional stock markets seeped into Pakistan equities as well, though the reasons are apparently different.
Banking sector caused most of the decline in index, primarily due to status quo on policy rate, which did not compensate recent buyers in Banking sector.
Main board scrips relatively underperformed and stay laggard, whereas small caps as ASL, STCL and a couple of cement stocks performed on the back of near term positive outlook.
Technology stocks realized a total trading volume of 44.6 million shares, followed by Power (43.1 million) and Cement (41.6 million). Among scrips, HASCOL posted trading volume of 31.2 million, followed by ASL (30.9 million) and UNITY (29.6 million).
Sectors contributing to the performance include Banks (-99 points), E&P (-76 points), Power (-63 points), Fertilizer (-54 points) and O&GMCs (-30 points).
Volumes increased slightly from 433.9 million shares to 441.2 million shares (+2 percent DoD). Average traded value however, increased by 14 percent to reach US$ 77.9 million as against US$ 68.1 million.
Stocks that contributed significantly to the volumes include HASCOL, ASL, UNITY, PRL and KEL, which formed 34 percent of total volumes.
Stocks that contributed positively to the index include DAWH (+31 points), MUREB (+10 points), CHCC (+6 points), MLCF (+6 points) and DGKC (+5 points). Stocks that contributed negatively include HUBC (-43 points), PPL (-30 points), ENGRO (-28 points), HBL (-27 points) and UBL (-22 points).