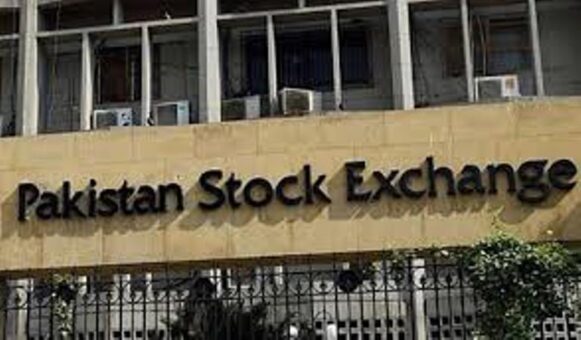 KARACHI: The stock market gained 310 points on Friday owing to improvement in economic indicators, especially in monthly exports growth that is the highest since September 2013.
The benchmark KSE-100 index of Pakistan Stock Exchange (PSX) closed at 45,654 points as against previous day's closing of 45,344 points, showing an increase of 310 points.
Analysts at Arif Habib Limited said that improvement in leading macro indicators such as growth in exports (highest monthly number since Sep 2013) as well as consistent increase in SBP forex reserves had the investors maintain an upbeat sentiment, especially on the banking sector stocks, which were relatively laggard in the previous Bull Run.
Banking sector stocks contributed the most to the Index in terms of points, however, selling pressure was observed in O&GMCs (among which, PSO saw the most attrition in the MoC).
Among textile, ILP performed well on the back of announcement of textile policy in the coming week. Scrips that led the volumes include BYCO (163.4 million shares), followed by HUMNL (44.8 million) and PRL (37.9 million).
Sectors contributing to the performance include Banks (+160 points), Engineering (+25 points), E&P (+21 points), Textile (+21 points) and Fertilizer (+21 points).
Volumes increased from 641.4 million shares to 696.4 million shares (+8 percent DoD). Average traded value however declined by 15 percent to reach US$ 135.1 million as against US$ 159.5 million.
Stocks that contributed significantly to the volumes include BYCO, HUMNL, PRL, KEL and LOTCHEM, which formed 45 percent of total volumes.
Stocks that contributed positively to the index include UBL (+49 points), MCB (+38 points), OGDC (+26 points), BAHL (+25 points) and HBL (+21 points). Stocks that contributed negatively include FFC (-17 points), PSO (-15 points), MARI (-11 points), KOHC (-6 points) and UNITY (-5 points).