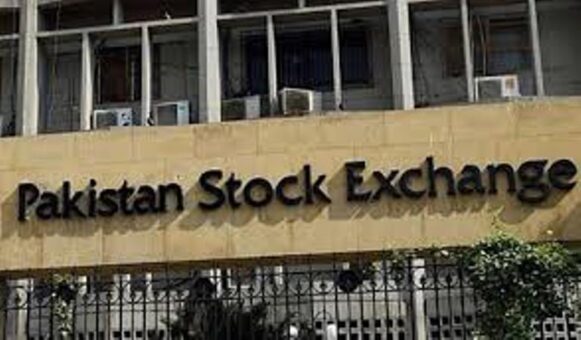 KARACHI: The stock market gained 625 points on Thursday as investors responded positively to a banking facility for non-resident Pakistanis.
The benchmark KSE-100 index of Pakistan Stock Exchange (PSX) closed at 42,647 points as against 42,022 points showing an increase of 625 points.
Analysts at Arif Habib Limited said that boisterous activity was witnessed at the Bourse in response to the Roshan Digital Account for Non-Resident Pakistanis (NRP) that would facilitate investment by Pakistani diaspora in Pakistan Stock Exchange listed shares as well as Government issued Securities.
Activity was seen across the board but was more pronounced in O&GMCs, E&P and Banking sectors. PSO traded near upper circuit, whereas OGDC, PPL and POL also responded positively to the uptick in international crude oil prices overnight.
Fertilizer sector also showed positivity as High Court granted stay on GIDC collection. Technology sector realized trading volume of 138.8 million shares, followed by Transport (126.6 million) and Banks (76.6 million). Among scrips, PIBTL topped the volumes with 121.7 million shares, followed by HASCOL (48 million) and WTL (42.9 million).
Sectors contributing to the performance include Banks (+176 points), Cement (+85 points), E&P (+85 points), Fertilizer (+64 points) and Power (+57prts).
Volumes increased from 707 million shares to 885.0 million shares (+25 percent DoD). Average traded value also increased by 27 percent to reach US$ 163.2 million as against US$ 128.1 million.
Stocks that contributed significantly to the volumes include PIBTL, HASCOL, WTL, PTC and KEL, which formed 33 percent of total volumes.
Stocks that contributed positively to the index include MCB (+65 points), LUCK (+62 points), HUBC (+53 points), PPL (+49 points) and PSO (+37 points). Stocks that contributed negatively include TRG (-13 points), SYS (-12 points), NATF (-9 points), ATLH (-8 points) and BAHL (-4 points).