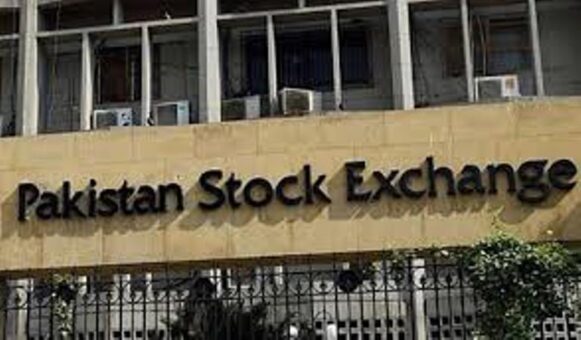 KARACHI: The share market ended down by 555 points on Monday following rise in coronavirus cases and imposition of partial lockdown in different cities.
The benchmark KSE-100 index of Pakistan Stock Exchange (PSX) closed at 39,633 points as against 40,187 points showing a decline of 555 points.
Analysts at Arif Habib Limited said that following the rising cases of Corona and partial lock down in different cities, coinciding with the roll-over week, the KSE100 index took heavy bantering that resulted in Index losing 873 points during the session.
O&GMCs, Banks, Cement sector stocks played major role in this drop. E&P sector stocks saw trades executed below respective LDCPs, with the exception of POL, which recovered on the back of increase in international crude prices.
SBP also announced Monetary Policy keeping the rate unchanged at 7 percent, which was in line with street consensus.
Sectors contributing to the performance include Banks (-121 points), Cement (-65 points), O&GMCs (-64 points), Technology (-42 points) and Fertilizer (-41 points).
Volumes increased to 195.5 million shares against 189.6 million shares the other day (+3 percent DoD). Average traded value however declined by 1.4 percent to reach US$ 46.4 million as against US$ 47.05 million.
Stocks that contributed significantly to the volumes include UNITY, HASCOL, TRG, WTL and PRL, which formed 32 percent of total volumes.
Stocks that contributed positively to the index include COLG (+6 points), POL (+5 points), ABOT (+3 points), NESTLE (+3 points) and HMB (+3 points).
Stocks that contributed negatively include HBL (-30 points), PSO (-26 points), TRG (-26 points), MEBL (-17 points) and MCB (-17 points).