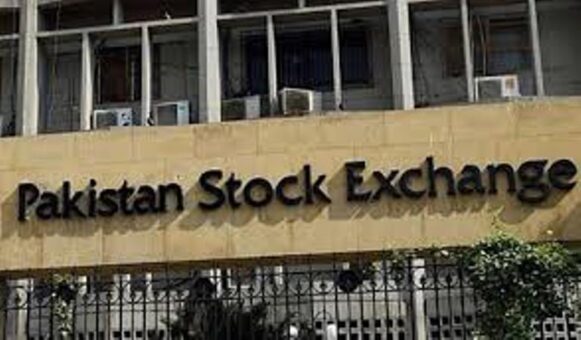 KARACHI: Stock market gained 266 points on Tuesday owing to improved trading activities in cement and chemical sectors.
The benchmark KSE-100 index of Pakistan Stock Exchange (PSX) closed at 41,377 points as against 41,111 points showing an increase of 266 points.
Analysts at Arif Habib Limited said that the market continued the bull run by adding another 290 points during the session and closed +266 points.
Cement sector contributed the most on the index, whereby LUCK, PIOC and MLCF performed well.
Chemical sector also saw improved performance with SPL, DOL hitting upper circuits and similar performance in LOTCHEM and EPCL.
PSO declared financial results at the opening bell with a loss in the bottom line, however, the stock sustained selling pressure with PSO reverting to its opening price by the end of session.
Vanaspati sector topped the volumes with 135.9 million shares, followed by Cement (113.8 million) and Cable (60.5 million). Among scrips, UNITYR2 realized 90.3 million shares, followed by PAEL (47.4 million) and UNITY (45.6 million).
Sectors contributing to the performance include Cement (+52 points), Power (+46 points), Technology (+45 points), Chemical (+38 points) and Textile (+26 points).
Volumes increased from 451.7 million shares to 759.3 million shares (+68 percent DoD). Average traded value also increased by 33 percent to reach US$ 130.6 million as against US$ 98 million.
Stocks that contributed significantly to the volumes include UNITYR2, PAEL, UNITY, HASCOL and POWER1, which formed 36 percent of total volumes.
Stocks that contributed positively to the index include TRG (+39 points), COLG (+26 points), MARI (+18 points), PKGS (+17 points) and KAPCO (+17 points). Stocks that contributed negatively include OGDC (-29 points), HBL (-29 points), PAKT (-22 points), PPL (-13 points) and UBL (-8 points).