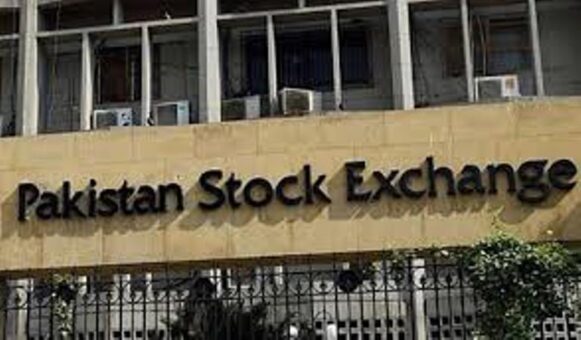 KARACHI: The stock market gained 67 points on Friday in a range bound trading activity.
The benchmark KSE-100 index of Pakistan Stock Exchange (PSX) closed at 41,266 points as against 41,199 points showing an increase of 67 points.
Analysts at Arif Habib Limited said that the market traded range bound today between -135 points and +184 points.
The Index was swayed by mixed expectations on FATF (due to be announced today 7 PM PST) as well as the result announcements that saw E&P companies declining on the bourse, although international crude oil prices were stable.
Financial results kept the interest alive from Investors, however, persistent selling in Banks and E&P kept the Index in check.
UBL was scheduled to be announced by close of session, but was deferred to Monday as the meeting was still in progress.
Among scrips, MLCF topped the volumes with 45.7 million shares, followed by PRL (27.9 million) and UNITY (24.2 million).
Sectors contributing to the performance include Cement (+92 points), Insurance (+20 points), Fertilizer (+13 points), Banks (-31 points), E&P (-18 points) and Power (-11 points).
Volumes declined further from 500 million shares to 354.4 million shares (-29 percent DoD). Average traded value also declined by 10 percent to reach US$ 96.8 million as against US$ 107.2 million.
Stocks that contributed significantly to the volumes include MLCF, PRL, UNITY, FCCL and PIBTL, which formed 39 percent of total volumes.
Stocks that contributed positively to the index include LUCK (+25 points), ENGRO (+19 points), CHCC (+19 points), MLCF (+13 points) and KOHC (+10 points). Stocks that contributed negatively include BAHL (-18 points), HUBC (-18 points), EPCL (-10 points), OGDC (-9 points) and PPL (-7 points).